View full post
Ingredients 24 oz or 790 ml of peanut oil 6 baby artichokes 2 zucchini For the batter 2 egg whites 2 dl of beer 120 gr flour A pinch of salt A teaspoon of evoo …
View full post
Today's recipe really brings the flavor of the Mediterranean sea to the table. It is quite a while that I wanted to make a sauce for spaghetti with Red Mullets or Rougets (Triglie in Italian) and I am very satisfied with the result! Definitely a recipe to repeat!
Any time I eat Triglie I think of my favorite Italian police inspector Salvo Montalbano, from the novels of Andrea Camilleri. He lives and works in Sicily,
View full post
Giovedi gnocchi! (Thursday gnocchi) This is what we say in Rome. So here is the recipe for making potatoes gnocchi. To make the gnocchi soft and light I do not use any eggs and I …
View full post
Any time I prepare this middle eastern eggplant dip it disappears in no time, it is delicious! It can be served as an aperitivo or antipasto with fresh bread, toasted if you like, some pita, or some crudités.
View full post
(Jump to the recipe ) This is a very simple yet delicious recipe and  right now it is peak season for radicchio, mid-winter. I love grilled radicchio which in my opinion is the best part …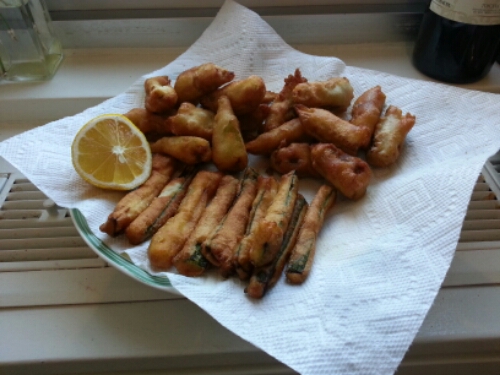 Ingredients
24 oz or 790 ml of peanut oil
6 baby artichokes
2 zucchini
For the batter
2 egg whites
2 dl of beer
120 gr flour
A pinch of salt
A teaspoon of evoo
Cut the zucchini in half length wise, and then again in half across. Then slice lengthwise, and discard the center part with the seeds, keeping the green side. to make small zucchini sticks.
Clean the artichokes, discard the dark green per leaves, discard the tip, and the outer part of the base. Cut each artichoke heart in four and keep it in cold water with lemon juice to keep them from darkening.
For the batter
Mix flour and beer with a whisk, add the oil and let it rest for 30 minutes at room temperature. Mount the egg whites, and add to the batter. Add the salt.
Deep fry
Heat the peanut oil in a deep pan, about 10 inches in diameter, on a high flame. When the oil is hot, pat dry the vegetables, put them in the batter 15 pieces at a time., and one by one on the hot oil. Do not fry too many pieces at once otherwise the temperature of the oil will decrease.
Put each batch of fried vegetables on a plate covered with kitchen paper, to absorb any excess oil, and add salt.
Important
Eat immediately!