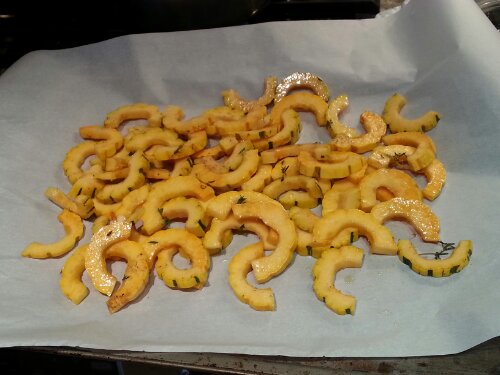 Ingredients
2 delicata squash
Fresh thyme
Olive oil
Salt and pepper
Parmesan cheese
Preheat the oven at 400F (convection, roasting).
Wash the squash, cut them in half longitudinally, and take off the seeds with a spoon. Do not peel them. Then slice into slices no more than half inch thick.
In a large bowl, dress the squash with salt, fresh thyme leaves, pepper, and extra virgin olive oil.
Cover a baking sheet with parchment paper, and lay the squash in one layer.
Roast for 20 minutes, or until the edges start to brown.
Take the delicata out of the oven, transfer them on a serving dish, and sprinkle a generous amount of grated parmesan cheese.
Enjoy!
.