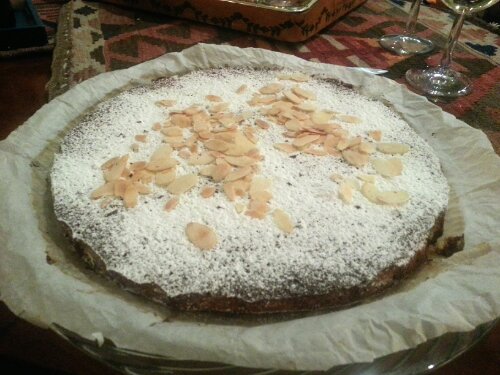 This cake is always a big success. Any time I have made it, I have been asked for the recipe. What a better reason for posting it? The ingredients are a bit of a surprise, there is no flour, and no butter or oil, just almonds, sugar, eggs, and whole oranges. Yes, with the whole skin! I recommend it, it is truly delicious.
Ingredients (in parenthesis are the quantities for a smaller cake)

2 (1) organic oranges (boiled for 30 minutes and blended)
280g (190g) of blanched almonds
240g (160g) of sugar
1 Tsp of baking soda (or baking poder)
1 Tsp of vanilla extract (or bitter almonds)
1 Tbsp of Cointreau (or rum)
6 (4) eggs lightly beaten
Confectionery sugar to garnish
Candied orange peals, toasted sliced almonds, or dark chocolate to garnish.
Put the whole oranges in a large pot and cover them with cold water. Bring to a boil and cook for 30 minutes.
While the oranges are boiling, blend the almonds with one third of the sugar until they become a fine powder. To add the sugar is essential, because it absorbs the almond oil  avoiding that they become like a paste as you blend them.
When the oranges are cooked, cut them in four parts and let them cool.  Preheat the oven to 360F. Discard the seeds from the oranges (navel oranges a seedless), and blend them with all the skin. If the orange rind at the top and the bottom is too thick I take those parts off.
In a bowl mix the blended oranges, the blended almonds, the rest of the sugar, the baking powder, the vanilla extract, and the liquor.
Finally lightly beat the eggs and add them to the rest of the ingredients.
Cover a cake baking dish (10 inches in diameter) with wet parchment paper, and pour in it the cake mixture.
Bake for 50 minutes.
Garnish with confectionery sugar. If you like you can also add some candied orange peals, toasted sliced almonds, or dark chocolate to garnish.
I made this cake with the reduced quantities in parenthesis, and the result was a round cake of 10 inches in diameter and 1 inch thick.