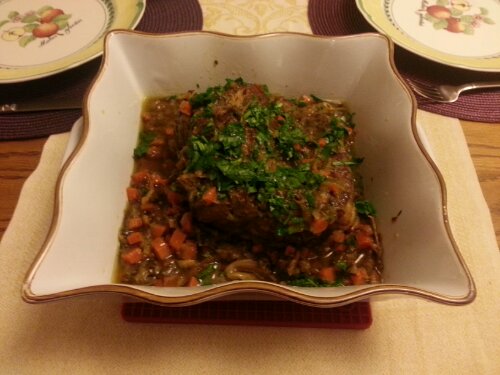 I bought 3 pounds of pork shoulder from Flying Pigs Farm at the Union Square Market, and prepared it following a recipe of Amanda Hesser, that they gave me. I did not have celery nor bay leaf, used white wine instead of red, and cooked it in a casserole on the stove, instead of baking using a Dutch oven.  It was delicious!
Ingredients
3 lb pork shoulder
salt and black pepper
3 garlic cloves lightly crushed
2 carrots, peeled and diced
1 leek, diced
a 3-inch piece of celery, diced
7 sprigs thime
2 small sprigs of rosemary
2 sprigs of parsley, plus extra for serving
1 small bay leaf
4 juniper berries
1/2 cup of red wine, plus a splash to finish
1) Preheat the oven to 325 F. Heat a Dutch oven or casserole over medium high heat until hot. Season the pork generously on all sides with salt and pepper. Lay the pork fat-side down in the casserole and brown it well, adjusting the heat so it doesn't scorch. Turn the pork with tongs and brown all sides.
2) Remove the pork to a plate and pour off the fat from the casserole. Add the garlic, carrots, leek, celery, herbs and juniper berries. Saute over medium heat until vegetables are browned on the edges and soft. Pour in the wine and scrape up the pan drippings. Lay the pork on top of the vegetables and add enough water to cover just 1/3 of the pork (about 2 cups).
If cooking on the stove: close the casserole with a lid and cook on low heat for 2 hours and a half.
If cooking in the oven: cover the casserole with heavy duty foil and then the lid and put it in the oven. Braise the pork until it is very tender and falling apart about 2 1/2 hours, turning the meat every half-hour (keep it on top of the vegetables) basting it with the juices.
3) When the pork is done, let it sit for 20 minutes or so (or even better serve it the next day), then slice (it will probably fall apart more than slice) and arrange on a platter. Stain the pan juices. Pour off the fat, add a splash of wine, and adjust the seasoning if necessary. Heat to boiling and pour over the pork. Sprinkle with chopped parsley.
Yield: 4 serving with leftovers.