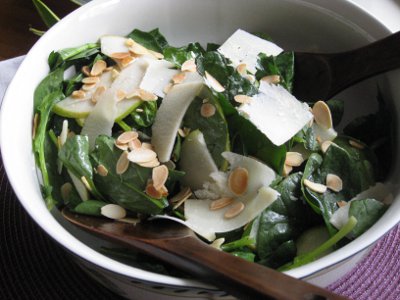 I made this baby spinach salad inspired by one I had in a restaurant. It is simple but yet not too basic. Only four ingredients and some dressing! Baby-spinach, pear, toasted almonds, and parmigiano.
Ingredients
baby spinach
one Anjou pear
parmigiano reggiano or grana padano cheese
4 Tbsp of sliced almonds
salt, fresh lemon juice, extra virgin olive oil
Toast the almond slices in a non stick heavy pan on medium heat, until light brown.
Clean and cut the pear in half. Take out the core and slice it in very thin slices, 1 or 2 mm.
For the dressing, in a glass, whisk together 1 Tbsp of lemon juice and 2 or 3 Tbsp of olive oil. Toss together the spinach, the sliced pair and the toasted almonds. Add salt to taste and the lemon-oil vinaigrette. Mix well.
Shave some parmigiano on the salad and enjoy!