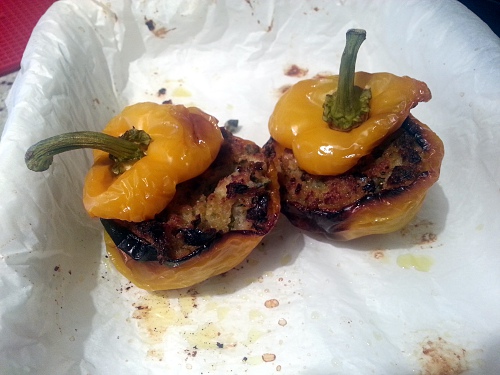 Here I am, back to my NYaldente-kitchen after a long and beautiful summer!
I made these stuffed peppers already twice as they are really delicious. The first time I used Cubanelle pepper,  and the second time I used some sweet yellow bell peppers. Both versions are very good. By the way, I made more than two but most of them were gone before I could take a picture! That is how good they are  😉
Ingredients
500 g of peppers
150 g bread (discard the crust, use only the white mollica)
50 g of Parmesan cheese grated
30 g of black pitted olives (I use Nicoise, Gaeta or Calamata olives)
20 g of capers
parsley
1/2 clove of garlic, finely chopped
milk
2 Tbsp white wine
extra virgin olive oil
salt and pepper
Remove the crust from the bread and cut the mollica (the white soft part) in one or two inches cubes. Put he bread in a bowl, almost cover with milk and let it soak.
In the mean time cut the top part of the peppers, and remove the seeds and the white parts from the inside. Keep the top with the stem to use as a decoration for the final dish.
Prepare the stuffing in a bowl. Squeeze well the bread from the milk, add the olives, capers, chopped parsley, grated Parmesan cheese and the garlic. Add a bit of white wine, pepper and salt. Mix well.
Heat the oven to 180C ( 360 F)
Take a baking dish (I cover it with parchment paper) and spread some olive oil on the bottom. Stuff the pepper (not completely otherwise the stuffing will overflow cooking) and put them in the baking dish. Bake in the hot oven for 40 or 50  minutes, or until the peppers turn slightly brown.