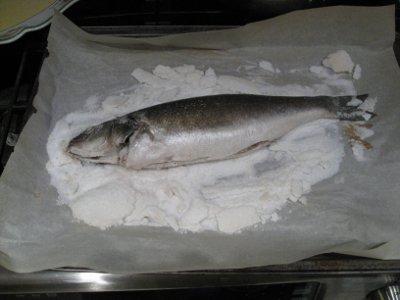 A very healthy and simple way to cook fish is to bake it completely covered with salt. This cooking method preserves all the moisture and flavor of the fish. You just need a whole fish simply cleaned of scales and insides (head and tail should not be removed), kosher salt, and aromatic herbs.
Ingredients
one branzino of about 1 lb (serves 2 people)
kosher salt
aromatic herbs (parsley and thyme)
1. Heat the oven to 400F.
2. Place some parchment paper on a baking sheet, I usually slightly wet the baking sheet with some water so that the paper adheres.
3. Place a layer of kosher salt on the baking sheet.
4. Lay the fish on the salt. Insert the aromatic herbs (whole sprigs) in the fish belly, and close it well so that salt will not go inside the fish when you cover it with salt.
5. Cover the fish with salt entirely (leave just the tail off).
6. Bake for 20 minutes.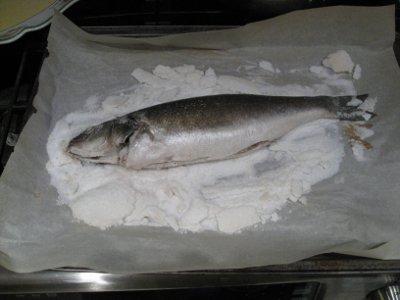 7. When the fish is baked, take the salt off and transfer the fish on a dish. Take the skin off from the top and bring it to the table to be portioned.
You can eat it as it is, or with a bit of extra virgin olive oil.
Good side dishes could be salad, asparagus, or  zucchini.
Wine suggestion: Nigel Gruner Veltliner from Austria.